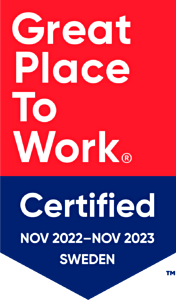 Infranode - A great place to work!
Infranode believes in investing for tomorrow, in making long-term and responsible infrastructure investments for a stronger society. We work towards a better infrastructure today and for future generations.
We are convinced that a variety of backgrounds, diversity of perspectives and experiences will help us achieve the type of energetic environment for our employees to achieve our sustainable vision.
We believe in work-life balance and we strive for success while leaving something good behind. We are growing fast and we look forward to continuing to build on our inclusive, ambitious, and fun culture.
We are proud to be certified by Great Place To Work. November 2022 - November 2023
About Infranode
Infranode is a fast-growing Nordic fund manager, that invests long-term in essential infrastructure primarily in the Nordic region within energy, transport, digital infrastructure, and social infrastructure.
We have EUR 1.8 billion in Assets Under Management (AUM), invested from well-known pension funds and institutions such as KPA Pension, the Fourth Swedish National Pension Fund, Folksam, IMAS Foundation (IKEA), Storebrand and Keva.